Downloading Key to Success data from the DfE for KS4 Imports - England
Visit the below website and enter your DfE username and password.
https://sa.education.gov.uk/idp/Authn/UserPassword
Select the Key to Success application from the options shown.

Choose Searchable Pupil Data from the options on the left.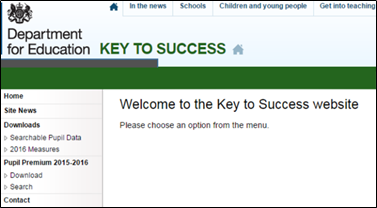 Paste the UPNs for each student into the box at the bottom. Note that you will need to do this in blocks of 200 as the DfE limits each download to this number.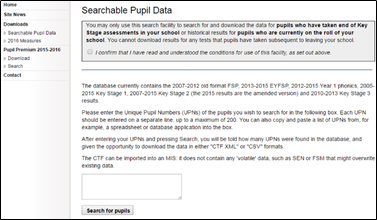 For each set of UPNs you paste in, you will then need to click the KS2 option to download a CSV file.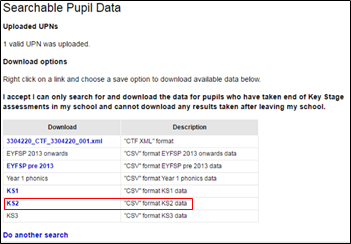 Combine the CSV files you have downloaded into one overall file. You do not need to change the format of this file - simply save this and import the file into the prior attainment wizard. Connect Data will calculate the KS2 fine score for you.
Related Articles

Adding Key to Success data for KS4 imports - England

If you do not already have your KS2 scores calculated and saved locally, you can download a Key to Success file from the DfE, using the student UPNs. Connect Data will read this file, and calculate either the KS2 Fine Scores or the KS2 Scaled Scores, ...

Different Types of Prior Attainment Scores

Your Prior Attainment scores can be imported within the + Year Group step, or you can use the + Prior Attainment wizards to import your data and make use of our prior attainment calculators. The Prior Attainment import wizard will change based upon ...

Adding Average GCSE Scores for KS5 imports in England

The Prior Attainment Article gives further detail of the prior attainment scores we use, and the information required to calculate the scores. The prior attainment is crucial to your Alps analysis as it provides the baseline score from which we can ...

Exporting data from SIMS

This article give step by step instructions for SIMS schools using our report definitions to extract their Student Information, Teaching Sets and Exam Results. Importing the report definitions Running the reports Adding extra data – Student ...

Viewing Summit across Key Stage 4 and 5

As Key Stage 4 Summit comes online there have been some changes to the way in which gradepoint trends will appear in Summit. The new gradepoint selector will support you in being clear on which Key Stage you are viewing and from which Academic Year. ...