This article give step by step instructions for SIMS schools using our report definitions to extract their Student Information, Teaching Sets and Exam Results.
Importing the report definitions
To download the SIMS report definitions, click on the SIMS KS5/KS4 Report Definition link from within the wizard; this will then download to your Downloads folder, or to an alternative automatic downloads folder.
All our report definitions are included within this bundle, so you only need to import the definitions once for each Key Stage. We recommend using Google Chrome to download the report definitions, and where possible, whenever working in Connect Data.
Once you have downloaded the SIMS report files, you will need to import them into SIMS. You do not need to open the files – simply import the .RptDef file into SIMS.
Open SIMS and go to Reports > Import and then navigate to the SIMS report you downloaded. The import screen in shown below. Click Import, and close when finished.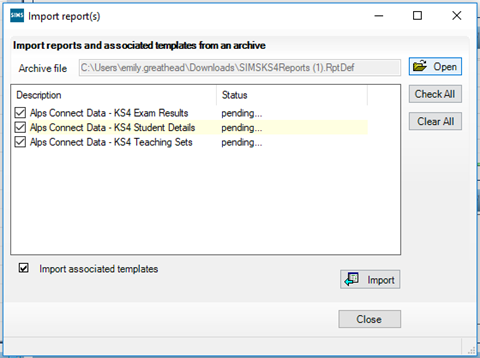 Running the reports
To run the reports in SIMS to extract the information you need, go to Reports > Run > Focus > Student and scroll to the reports you just imported. Sorting the Updated column may help you to find the most recent imports.
Report definitions that we offer:
To create your Year Groups, you will need the Alps Connect Data – KS4/KS5 Student Details report definition
If you wish to import teaching sets for analysis, then please use the Alps Connect Data – KS4/KS5 Teaching Sets report definition
For End of Year reports we have an Alps Connect Data – KS4/KS5 Exam Results report definition.
When you double click to run these reports, the screen below will appear: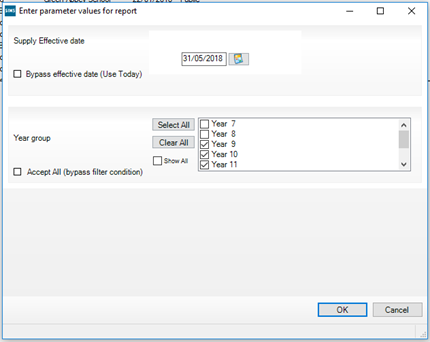 Ensure you tick the appropriate year for your Year Group import and click OK.
If you are having problems running the reports, try ticking Bypass effective data (Use Today); this is a common fix for reporting errors.
These report definitions should produce Excel files. Within Excel click Enable Content and save the files locally.
Adding extra data – Student Information
At this point you can add additional data to your import files, particularly the student information, where you can include any pre-calculated prior attainment scores, and any custom columns you wish to use in Connect Interactive. Custom columns are not validated and can be used to define filters specific to your school, such as feeder school categories, or SEND.
Running your Exam Results report definition
Within SIMS, run your Alps Connect Data – KS5 Exam Results report definition. For summer 2020 exam results you will need to adjust the effective date to the 31/05/2020 to pick up your on-roll students for the 2019/20 Academic Year. You then need to choose the Year Groups you wish to extract data for. We recommend extracting data by Key Stage, as you will have to import your KS4 and KS5 data separately into Connect Data at a later stage. Click Okay, and the report will run, producing an Excel file containing your students' exam results.
Save this file locally, and open the file. Check the exam seasons that have been extracted – you may need to delete previous seasons from your file, such as GCSE results for Year 13 students. It is not necessary to import their GCSE results, you should delete all extra results from the file, so that only the results you wish to produce analysis for are left.
After checking your file, you can import this into Connect Data using + Add Exam Results in the quick actions toolbar in Connect Data.