I cannot see the Manage Data button
Only users with the Upload permission are able to see the Manage Data button on the Connect Homepage.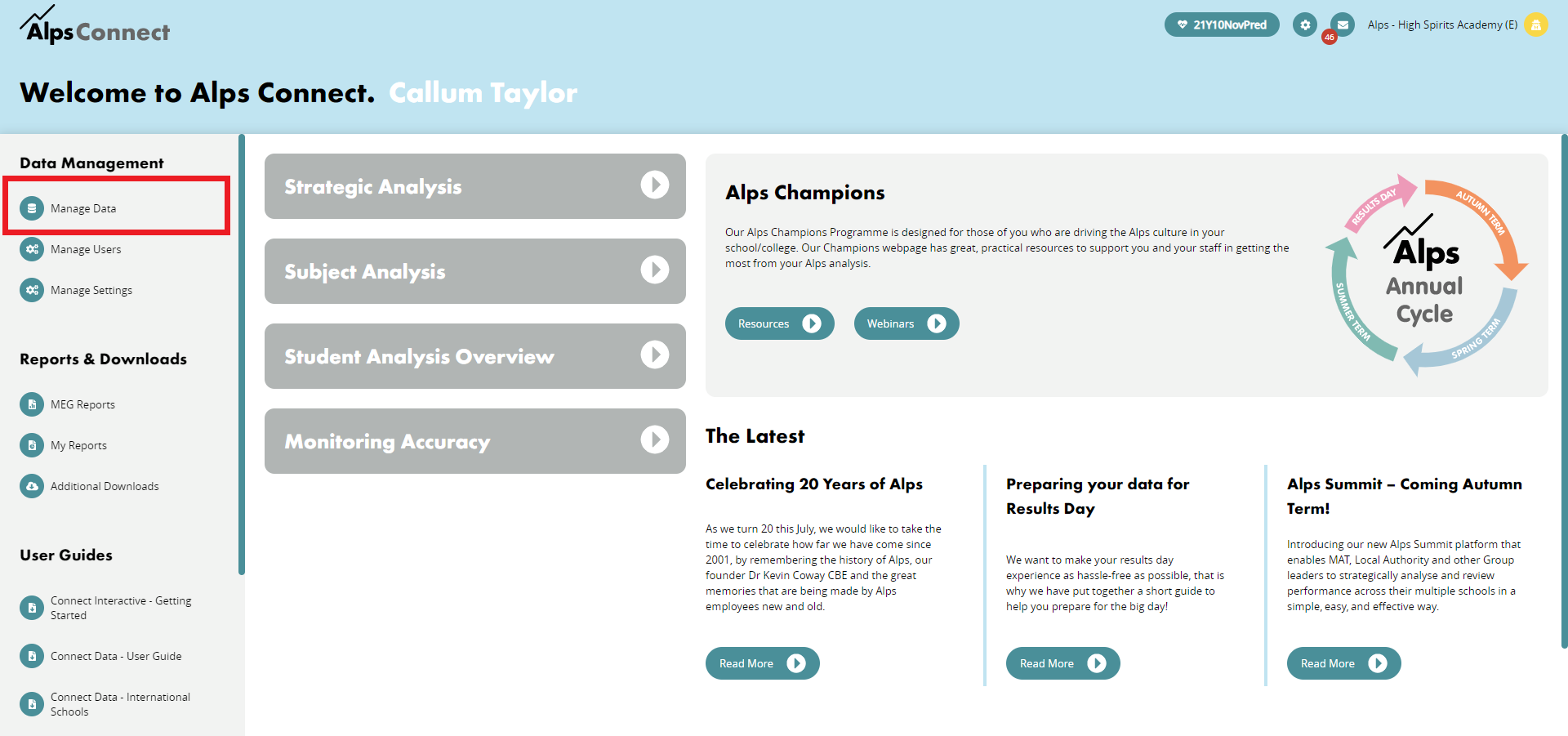 If you need to use Connect Data to prepare data but cannot see the button, you will need to contact your Alps Connect Administrator(s) and ask that they update your permissions.
Related Articles

T score and 3 Year T Score KS5

The T score simply averages your 3 annual grades for RED teaching, BLUE teaching and the Quality Indicator. The three-year T score is the average of the 9 grades, i.e. of the 3 grades across the three years. It therefore gives you a sense of how your ...

Checking your student data

After completing your teaching data import, you have completed your Year Group setup. On the Cohorts or Students screen you will see the updated Year Group summary bar, showing headline figures for your Year Group. The year group summary bar shows ...

Naming and arranging Gradepoints in Connect Data for Monitoring

Before adding monitoring points, it is worth thinking about your naming convention for the year and what your staff users will see when they are in Connect Interactive. Currently, when a user logs into Connect Interactive the most recent Gradepoint ...

Editing student data

This article will show you how to make edits to the student data you have imported. You can make edits individually, using the Edit Student screen, or in bulk, using either merge or overwrite. Editing individual students Bulk updates – merge and ...

Checking your data

The sections detailed below give prompts for elements that may be helpful to check. Information flagged in these sections does not necessarily need to be changed, however we would encourage you to carefully review the information given on this screen ...