This article will gives details of the exam results import. Both grades imports - exam results and monitoring - are very similar, however the Gradepoints produced give different outputs.
Exam results imports can be used to order your End of Year reports and viewed in Connect Interactive, if you subscribe to Interactive.

Monitoring imports will produce Gradepoints that can be viewed and analysed in Connect Interactive.
Once the data Grades data has been imported into Connect Data, you need to publish your data, to link your Grades and Cohort data, creating a Gradepoint.
Import your Exam Results
Exam Results imports are reserved for the End of Year examination grades that your students receive on Results Day. Any other grades should be entered as a monitoring point.
The Exam Results wizard can be launched from the Gradepoints screen, accessible from the sidebar, or the + Exam Results in the quick actions toolbar.
The wizard will give you details of how to prepare your data – we have a SIMS report definition to help you to extract your examination results.
You will need to specify the effective date when you run the report, and you may need to remove any additional data from previous exam seasons from your Excel file.
Follow the wizard to import your data, making sure to select the appropriate format of your import file. This can either be in a rows per exam result format, or a marksheet format with the subjects across the top of the file. The formats are shown below, and within the wizard itself.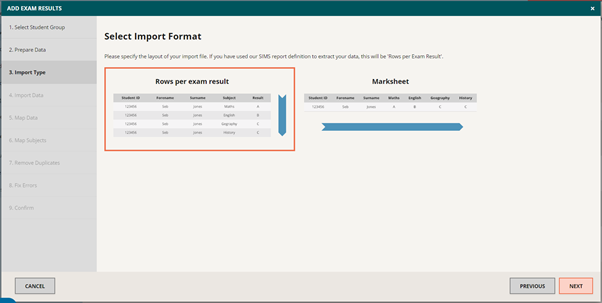 Once you have imported your file, you will need to map the columns of your file. The only information required for this import is Student ID, subject and grades, meaning you may need to skip several columns. You do not need to import information such as student name, as this was imported previously and will be matched based upon Student ID.
If you have not mapped your subject import names previously, you will need to map them here. Details of this can be found in our article on subject mapping.
You may also need to remove duplicate entries from your import and fix errors such as invalid grades.
To publish this grades data and create a Gradepoint from which you could run reports, please see the Check & Publish article.
There is a Confirm step within both the Monitoring and Exam Results wizards, this allows you to do a quick check on the data you are importing.