This article will show you how to select your Gradepoints and produce your Alps reports in Connect Interactive. You can do this for Monitoring, Exam Results or a mix of Gradepoints.
| | |
| --- | --- |
| Article relevant to: | |
| Country | England, Wales, Northern Ireland, International Schools |
| Users wishing to | Create reports and edit the Gradepoints included |
| Key Stage | KS4, KS5 |
Selecting your Gradepoint for the reports
Before starting you need to ensure that you have the appropriate Gradepoint selected. When producing a predefined report, it will automatically use the selected Gradepoint and the three previous points; this emulates the four years of data in an Alps report.
To change the automatically selected Gradepoints, please click on the Gradepoint Selector in the top right-hand corner of the screen, shown in the screenshot below.

The Gradepoint Selector will appear.


You can choose up to four Gradepoints in the Gradepoint selector by using the drop down menus to filter your search to make the selection process easier.
You can filter by Academic Year, Year Group and Gradepoint Type and then choose your Gradepoint from the Available Gradepoints drop down menu on the right hand side.
In the example above I have chosen four monitoring Gradepoints, but you could select four examination Gradepoints or a mixture.

To apply the changes, click the tick in the lower right hand corner of the selector panel.
Note: The right-hand Gradepoint is labelled as the Main gradepoint. This is the Gradepoint that the analysis will be focused on. The other Gradepoints are included for context, mirroring the Exam Results report set-up.
Creating your report
Once you have chosen your Gradepoints, click on Strategic Analysis on the Connect Homepage.


Select Start with an Alps template, then follow the steps to define what level and report you wish to produce. First, select your level from the options available.
The available templates will appear below once you have made your exam level selection.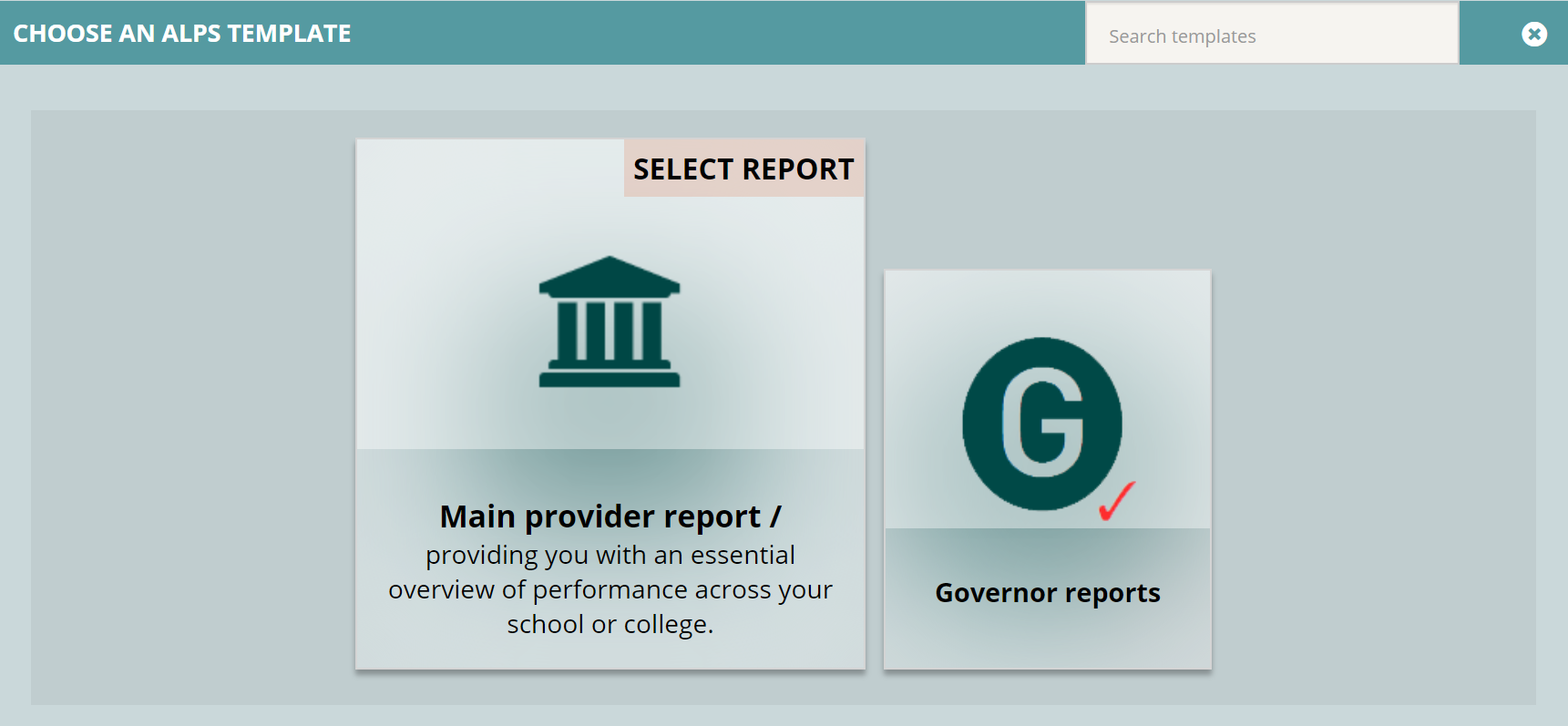 If you have selected Provider or Governor you will next be presented with the option to enable comparative analysis.


This will enable you to compare groups of students' performances. For example, do you have a progress gap for gender? Selecting Gender will automatically set the appropriate options. Any
Custom Columns
you have entered into the data will also appear within the Comparison Groups section.
Clicking Create the Report will start creating the report. The pages will appear on the next screen.
You can save and share your custom report using the icons in the top-right of the screen.