This article provides guidance on how to view and analyse your consortium monitoring data if the Roll and Taught at columns have been populated in Connect Data.
| | |
| --- | --- |
| Article relevant to: | |
| Country | England, Wales, Northern Ireland, International Schools |
| Users wishing to | Analyse their data across several consortium schools or colleges |
| Key Stage | KS4, KS5 |
1. Definitions
We define 'On Roll' students as students who are enrolled at your school/college, regardless of where they are taught. For this purpose we call them 'Home' Students. 'Taught At' students are the students who are taught at your school/college, regardless of their 'on roll' organisation. 'Guest' students are therefore the students who are not enrolled at your school/college but are taught at your school/college. These would be added to your student list in your cohort data with an appropriate Student-ID. (prefixing the ID with G or Guest helps users of Connect)
For the purpose of this article EYG is our school/college, and we are using the EYG account. EYG teaches some students enrolled at School A, B and C. Also, some students from EYG are taught at schools A, B & C The data has been added using the two additional 'Consortia school' columns called 'Roll' and 'Taught At', please see our article on enabling these two additional fields for further information.
In your monitoring GradePoint you would include all Guest and Home students' grades.
2. Using Connect - at Subject Level
By using the 'Apply Comparisons' dropdown you can select either of the Alps standard fields of EnrolledAt or TaughtAt. This applies through the three areas of strategic, subjects and students within Connect.
In the subjects Analysis area click Apply Comparisons:
Then select either 'EnrolledAt' or select 'TaughtAt' - you can add all or individual categories.


Once applied, use the toggle to 'Show in one table':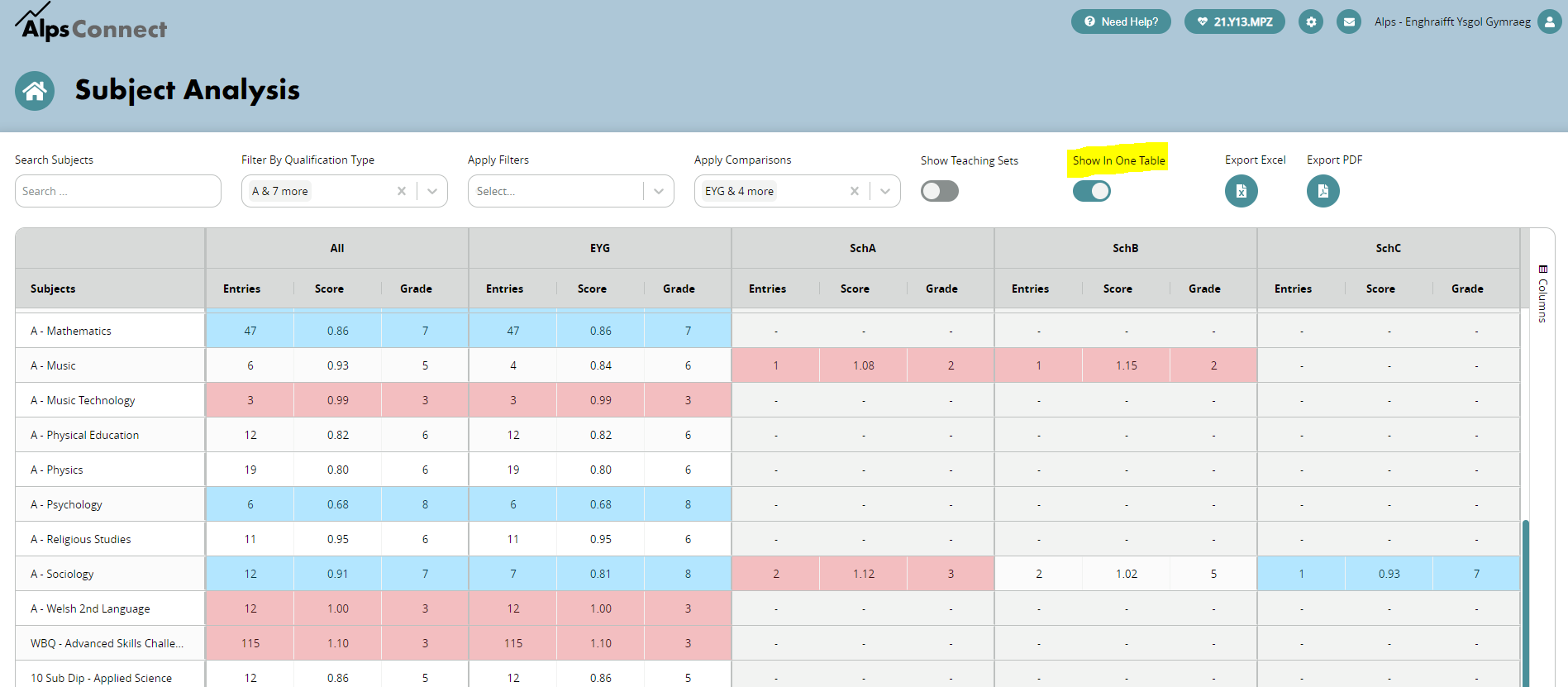 In the example above, we have applied the 'enrolled at' comparison. In Music, EYG teach 1 student from School A and 1 from School B. In Sociology we teach students from all other schools. The table shows the progress of students from these other schools.

Within a subject page, teachers can see which students will be counted in the school's final analysis as well as the analysis of all the students they teach.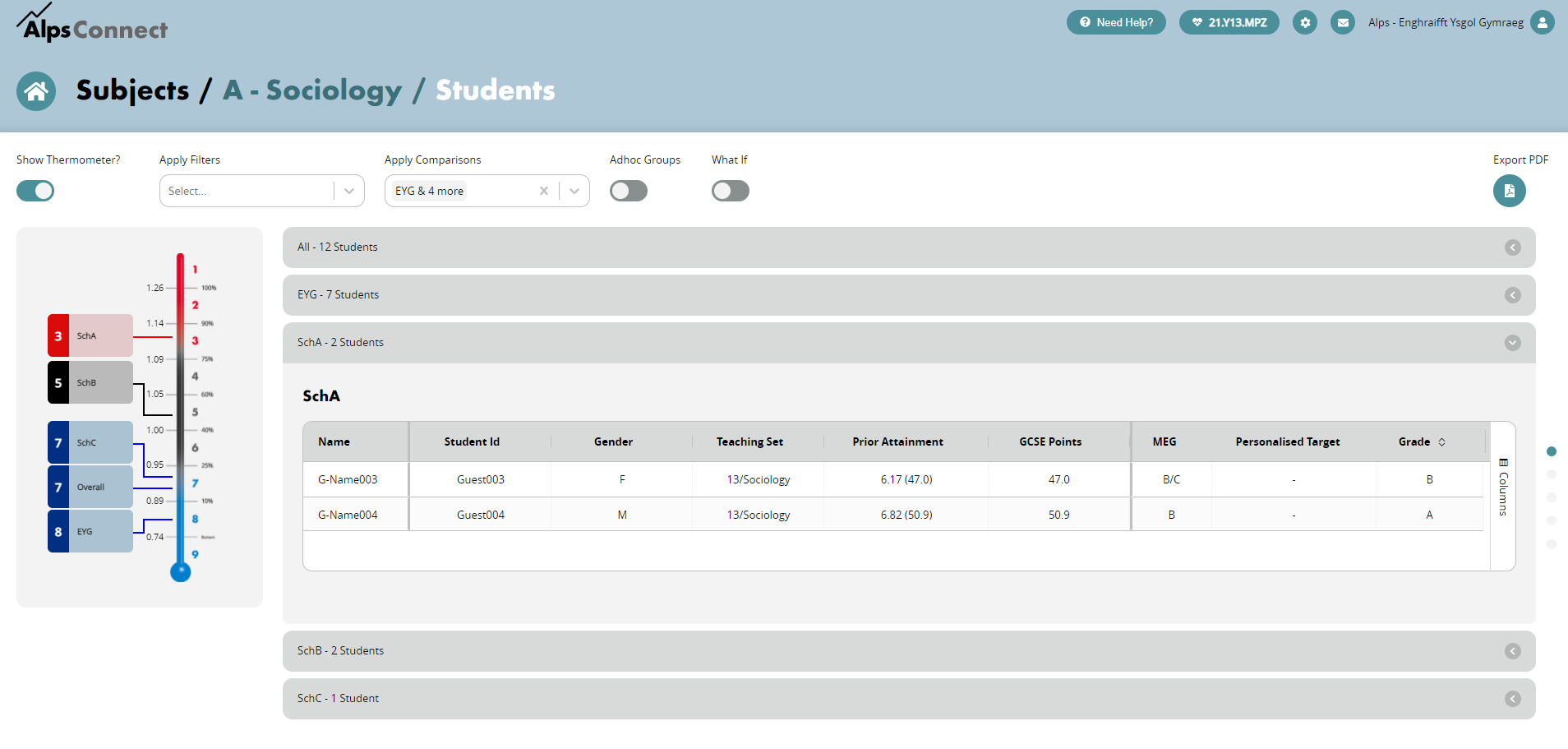 3. Strategic Analysis
At School level we can see our monitoring data with or without our guest students so leaders can understand how their analysis might look at the end of the year.
In the strategic section, one you have selected the desired report click on the Edit button: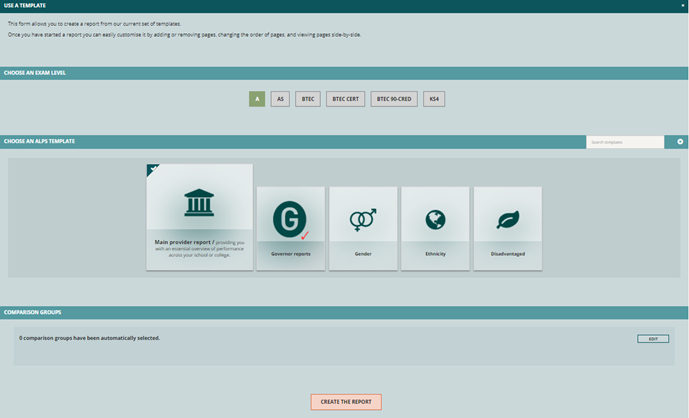 And then select from the options:

By selecting the Enrolled at option, this shows the strategic overview for all 159 students being taught subjects at School EYG compared to just the 149 students on the Roll of school EYG.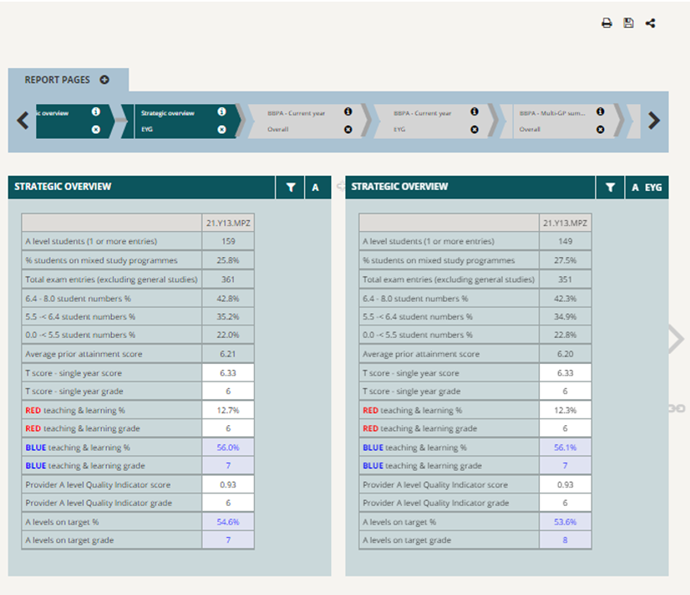 Don't forget you can save this report using the disc icon in the top right and come back to it.
4. Student Analysis Overview
In the students' section, if you wish you use the filter to show only EYG students before applying additional comparisons.