The Cohorts page gives an overview of the data currently in the system. Until you have imported your basic student data using the + Year Group wizard, you will not be able to add prior attainment, and you will only be able to add teaching sets and personalised targets once you have imported your prior attainment. This is referred to as the Year Group summary bar, seen partly populated below.

Setting up your Year Group
To begin adding your Student Information, please click on the + Add Year Group to launch the Import Student Data wizard. Student data is fundamental to your Alps analysis and you should only need to import this once each year.
If you need to make any edits – adding or removing a student for example – you can do this at any time throughout the year using the Students page. You can also edit the details you import for your students, such as disadvantage data. Our article on Editing Student Data shows how to make edits to your imported data.

Select Student Group
The first wizard step asks you to specify the Academic Year and Year Group of your students. This should be the Academic Year in which the students are currently enrolled, rather than academic year they will complete their qualifications.
If you have entered data into the previous Academic Year using the new version of Connect Data, you may be able to use auto roll-over. If you need to make any amends, you can do so from the Students screen.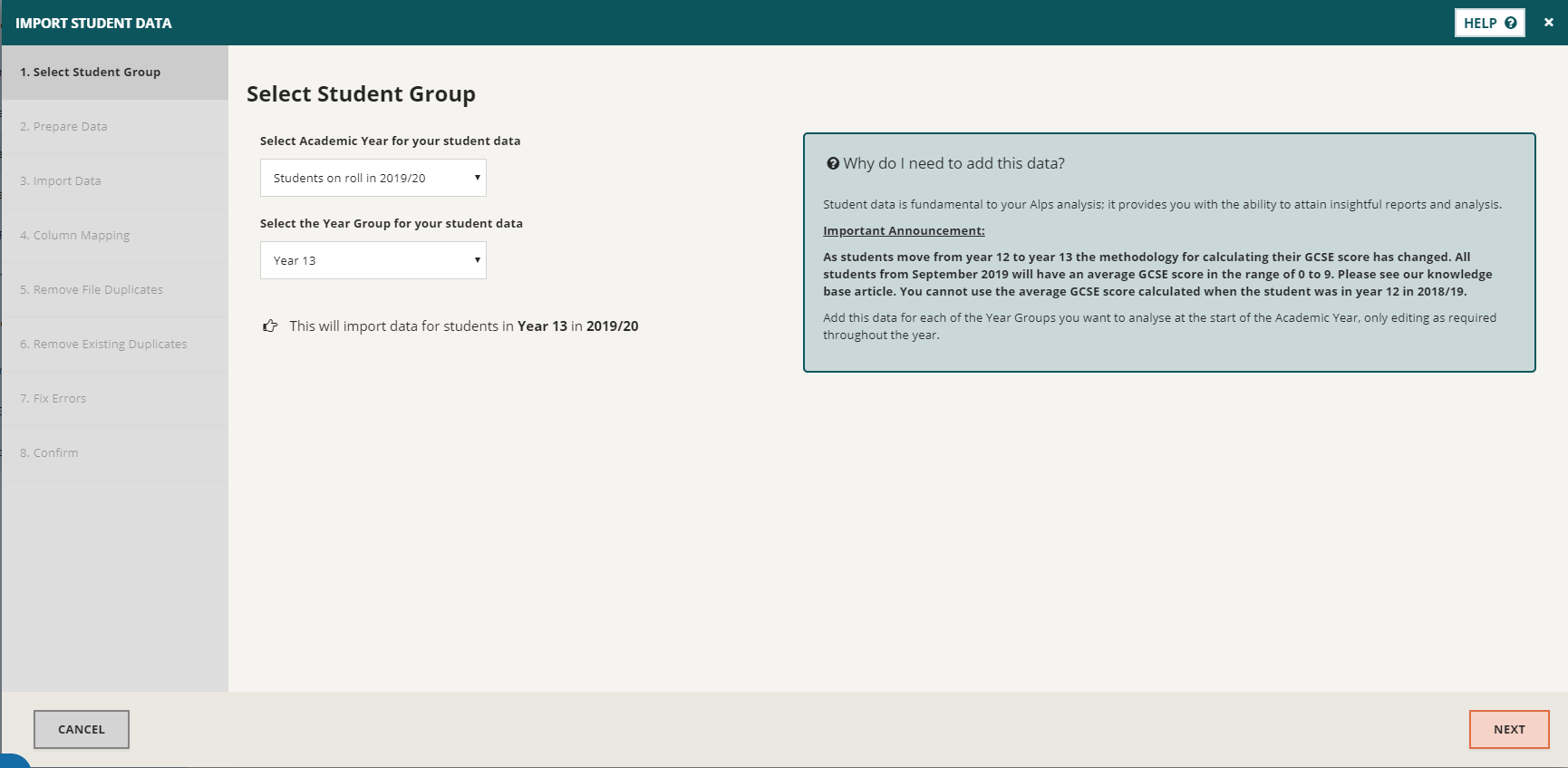 Prepare Data
When using the column mapping screen, you can create custom columns that your colleagues will be able to use in Connect Interactive. If you have custom columns, map your column to New Custom Column, name your column and Save.
You can import some/all of your prior attainment scores during the Student Data Import wizard, in which case the percentage of students with prior attainment will appear on the Cohort screen once you have completed the wizard. Alternatively, use the Import Prior Attainment wizard to import using a Key to Success file (KS4 in England), WNT Calculator (KS4 in Wales) or the GCSE Score Calculator (KS5 imports).

During your import, the following articles may also be of use: