To use Fine Grades within your Monitoring Data please follow the steps below:
Switch on fine grades in Connect Data
Add the appropriate suffixes – tell Connect Data which symbols / letters / numbers you are going to use for fine grades.
Please see below for step by step written instructions.
Note: only those with Upload Data Permission can see the Manage Data box in the Connect Homepage.
Switching on Fine Grades
From your Connect Homepage - click on Manage Data. In the left-hand sidebar you will see Fine Grades underneath Connect Data Settings.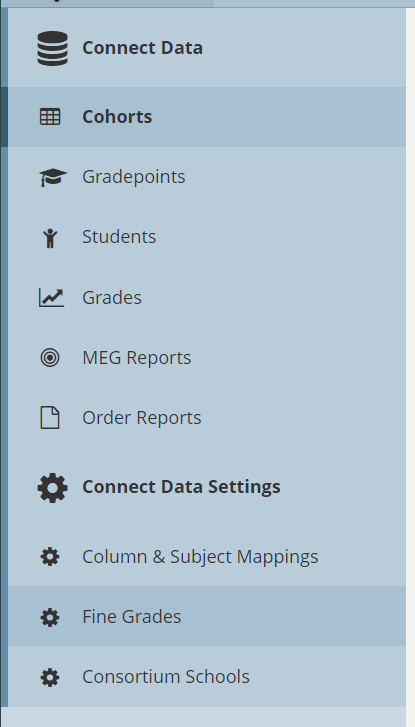 Check the Use fine grades box.

NOTE: If you have checked the 'Use Fine Grades' box, then Connect Data will now ONLY accept grades in your Grades Data files which are fine graded.
In order to set up a system where your Grades Data files can independently accept both fine graded and non-fine graded data, you need to check the 'ALLOW NO SUFFIX FOR SECURE'. Connect Data will now treat non-fine graded data as secure for the purposes of analysis.
You can also switch fine grades off at any point if you want to import without them. The 'Use fine grades' box can be used as a toggle at any time in the year to help you manage your imports as you wish.
Adding suffixes
Once the 'Use fine grades' is activated, you have options on the suffixes you wish to use for adding fine grades.
On the Fine Grades Setting Menu – decide on the suffixes you will use for each fine grade group. Common suffixes are shown here +/=/-, 1/2/3, A/B/C, etc
Enter suffix into appropriate box and click ADD
Once you have entered all suffixes – click SAVE FINE GRADES
To edit or delete a suffix, click the edit icon to the left of the text box – once you are happy with your changes click SAVE FINE GRADES
NOTE: If you do not use a fine grade suffix and have 'Allow no suffix for secure' checked, Connect Interactive will automatically assume that grades without the suffix fall into the SECURE group.