In this article we discuss the ways in which the MEG split grades can be interpreted
In some qualifications, the MEG table will display a split grade for a given prior attainment band.

In the table below for example, you can see that prior attainment bands 1, 5,6,9 and 10 are all split MEGs.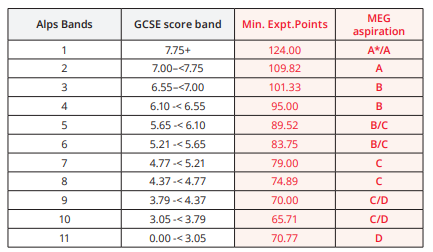 This can lead to some teachers questioning which of the two grades they might select as the 'target' grade for their students.

In reality, each of the MEGs has been determined from a Minimum number of Points. The full benchmark tables are published in the Alps Guides, but the extract below for A level shows that the points needed for band 5 to hit the 75% line would be 124. This lies between the C grade at 80 points and the B grade at 100 points, hence the split MEG.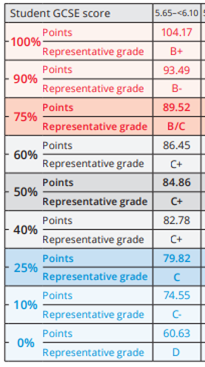 If I had a class of band 5 students, and I had set them all targets of C grade, then I would overall fall short of my overall target for my class in terms of point. Similarly a full house of B grades would exceed that target.

I also have to take into account my unique subject thermometer when I am target setting at an individual student level.

In reality, the MEGs act as the starting point. They give us a guide as to how students in prior attainment bands in the top 25% of providers perform. As teachers we should use this information to set targets based on the individual student.

Many Alps schools will use the higher of the split grade as this starting point
We have more information on target setting in a short video - type personalised targets into the search.